Humor, Memoirs and Poetry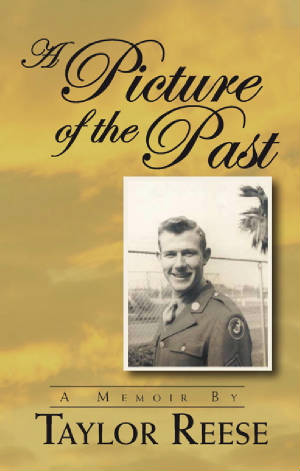 A Picture of the Past
by Taylor Reese

© 2006, 209 pp,.ISBN -13 978-933251-38-7, $16.95, Parkway Publishers


Memoirs have been high on the reading list since the huge success of "Angela's Ashes" and "Tis" a few years ago. More recently, we read the thinly disguised memoir of Taylor Reese called "From Here To There," the first seventeen years of a North Carolina farm boy, the son of a tobacco farmer.

Taylor's new book is out--without the disguise. It is an out-and-out memoir of a man who couldn't manage the intricacies of an old-fashioned hotel switchboard, but who could go on to become president of an international trade association where he rubbed shoulders with some of the great and mighty; a man who bought an airplane before he knew how to fly; a man who was at one time a monkey and snake merchant in South America; and, a soldier who served his country during World War II.

When you meet this man on the street or in the post office, you will never suspect that he is one of the many dedicated members of our armed forces who sent coded messages to the four corners of the earth during wartime.

The book is an inside look at a time long past; a time we will probably never see again. If you like a memoir of an ordinary person who is at the same time extraordinary, this is a book--an unassuming memoir--you will thoroughly enjoy.

HUMOR Is Where You Find It
Look No Further
by
Taylor Reese


© 2004, 168 pp., ISBN: 1-887905-32-4, Paperback, $12.95. Parkway Publishers

A big laugh is good for you, it releases endorphins. Laughter adds to your well-being and could even lengthen your life--a good laugh is actually better for you than chocolate and it won't rot your teeth.

HUMOR Is Where You Find It

is full of short, pithy, clean stories. Some of us don't have time to find a comfortable armchair for a few hours of reading--some of us have to read on the run. If you are one of these people, this is a book for you. You will read about riders on a bus who are treated to Reuben's unauthorized presence. You'll meet Janice Jean and her brothers who go from one wild caper to another, and you'll find a thousand other short funny stories, the foibles of life. As a Court Reporter, Reese spent years listening. Now he tells some of those stories and other day-to-day twists we all experience.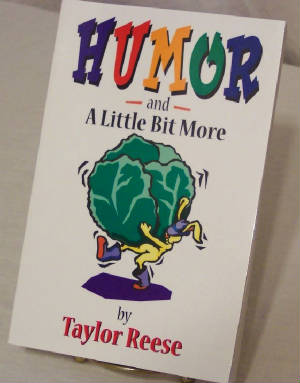 Humor and a Little Bit More Here are stories, essays and pithy quotes that spring from every day life. Like the late Will Rogers, Taylor uses no fancy props. This is Main Street, USA--refreshing as lemonade in summer or a paddleboat on a quiet river. $12.95, 176 pages, Paperback, Copyright 1999, ISBN 0-9663666-3-8
From Here To There
A Boy's Tale
by
Taylor Reese

© 2004, 185 pp., ISBN: 1-887905-34-0. $12.95. Parkway Publishers
A memoir is an intimate and personal window into a life. The history into a time and place can be illuminating but sometimes dry. A memoir, on the other hand, can take you back in time in a way that makes you feel that you are actually there--a memoir can give you the genuine flavor of the time.
From Here To There
opens a window on the first seventeen years of the life of a farm boy from eastern North Carolina. The story pulls back the lid on a time long gone when cotton was harvested by hand and when Cloverine Salve was the balm for all burns, scrapes, hurts and stings that boys--and not a few girls--are prone to. This story makes you remember walking in the rain and the feel of mud squishing through your toes. You may not have experienced an era when we had teachers instead of educators; you may not have had discipline as a necessary part of the ABCs, but you can be there with a boy who knew those days. Taylor Reese lived on a farm where the work was so backbreaking that out of six brothers not one stayed on the acreage to follow his father's footsteps. You may not be able to live such days anymore but you can go there as you read
From Here To There
.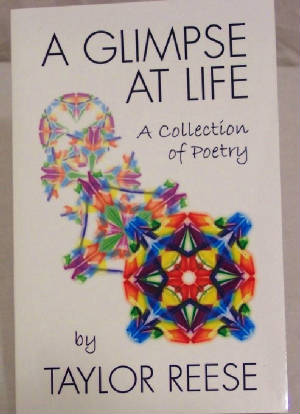 A Glimpse at Life A Collection of Poetry In a manner reminiscent of Will Rogers, the poems of Taylor Reese tend to be homespun and down-to-earth. Taylor comes from the farmlands of rural North Carolina, where people tilled the soil, had faith in the Almighty, and had little time for putting on airs. This early background shows in his poems.
He sometimes rubs salt into the seams of the insincere and picks at the veneer of the falsely pious or the hypocrite. Some of his poems may raise your ire, but they will make you think. $12.95, 137 pages, Paperback, Copyright 2002, ISBN 0-9663666-7-0