The Gold Bug of Farrow Point
by
Jack R. Pyle


© 2004, 135 pp., ISBN: 1-887905-78-2, Paperback, $14.95. Parkway Publishers

The Gold Bug of Farrow Point is a mystery for young-adults who have keen, probing minds and a sense of adventure. A brother and sister, who were on a Florida vacation, slowly decode a message that brings them into a world they didn't know existed. The sleepy fishing village they are in becomes fraught with all kinds of danger--kidnapping, smuggling and a brush with murder. The versatility of Jack R. Pyle's writing skills is apparent when you realize that a man in his eighties can take you inside the heads of an eleven-year-old girl and a thirteen-year-old boy with complete honesty. When he says, "I'm still a kid," you can believe him.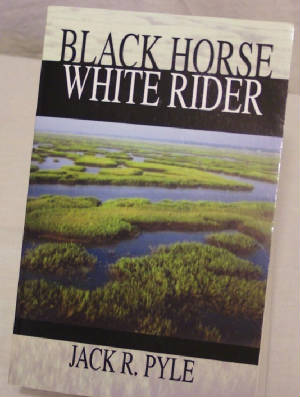 Black Horse White Rider As a girl, daughter of a stern New York City clergyman, Elizabeth never considered the rights she may have had as a person. When she married and moved to a rice plantation on the coast of Georgia, the reality of her own situation became entangled with the rights of all human beings, black or white. Her place in the reality of the early and mid-1800s is made abundantly clear by her husband and by her father. The solid bone of her spine stiffened with the inequities. A headstrong young girl turned into a fighting woman, bent on bringing down slavery. Elizabeth became a fighter for fairness--for herself and for all who are dealt fewer cards than a full hand. $18.95 ISBN 0-9663666-6-2, 499 pages, Paperback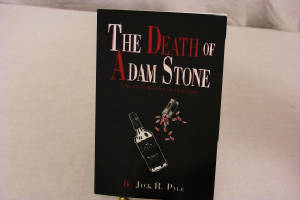 "In The Death of Adam Stone, a classic American murder, Jack R. Pyle shows us that the mean streets may sometimes lead to one's own family. This is a tale of money, intrigue, and kinship whose alienated hero Raymond Chandler would have hailed as one of the boys, set in the Florida of John D. MacDonald."--Sharyn McCrumb, NY Times Best-selling author
$9.95 189 pages, Paperback, copyright 1996, ISBN 1-888715-01-4
The Sound of Distant Thunder
by
Jack R. Pyle



© 2004, 228 pp., ISBN: ISBN: 1-887905-35-9, Paperback. $13.95. Parkway Publishers

The Sound of Distant Thunder is a story of a brutal murder and a brutal revenge, but it is also a love story as old as the mountains that spawned it. There are seven major characters and each person tells a part of the story in a voice so clear that you are in those mountains from the moment you read the first words. One reviewer said, "Jack, you done us proud." Jack R. Pyle is a storyteller, a writer whose works are as varied as mountain weather, who never tells the same tale twice, and whose pen always stabs into the truth behind the facade. The Sound of Distant Thunder was the Appalachian Writers Association Book of the Year in 1999.

After Many a Summer
by
Jack R. Pyle



© 2004, 245 pp., ISBN: 1-887905-33-2, Paperback. $13.95. Parkway Publishers

After Many a Summer is an old-fashioned love story, one that picks at the scabs of modern-day life, but still retains the basic goodness that is inherent in us all. If you have ever felt that time and tide had kept you from reaching for the brass ring, and if you have ever wondered whether it was too late to try again, then Cassie Jean's story is a "must-read." With After Many a Summer, Jack R. Pyle has written another Appalachian story, but this one is so unlike his award-winning The Sound of Distant Thunder that you find it difficult to believe that the same writer wrote both stories.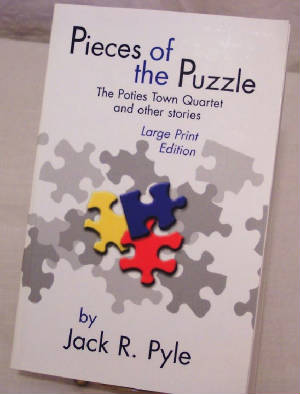 Pieces of the Puzzle, a collection of short stories, are stories of the human experience--happy, sad, sweet and bitter. They reflect our times and the memories of yesterday. $13.95, 247 pages in Large Print Edition, Paperback, Copyright 2000